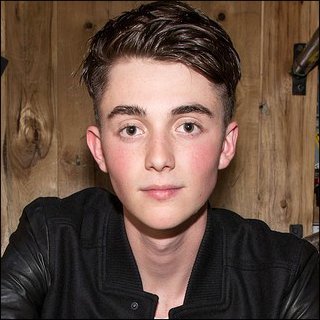 Profile
---
Famous as :
Singer

Birth Name :
Greyson Michael Chance

Birth Date :
August 16, 1997

Birth Place :
Wichita Falls, Texas, USA

Claim to fame :
Cover for the song "Paparazzi" (2010)


Biography
---
by AceShowbiz.com
---
He was merely 13 years old when his talent captivated YouTube viewers as well as celebrities. Greyson Michael Chance owed it to Lady GaGa for his fame today. Born on August 16, 1997, Greyson Chance is the sixth grader who covered GaGa's "Paparazzi" on piano for his school's music festival. When the video was uploaded on YouTube, it received millions of views and his other videos containing his original compositions also got huge hits.

Chance is the youngest child of Scott and Lisa Chance who resided in Edmond, Oklahoma. He began playing piano at the age of eight but never had a formal training for vocals. One day, he watched GaGa performing "Paparazzi" at the 2009 MTV Video Music Awards and got "awestruck". "I love her sense of drama and theatricality, plus she's an amazing singer and piano player," Chance said.

He then decided to perform a piano-laden version of the song at the school festival in early 2010 and posted the video online. It did not instantly attract major views but began to when some websites embedded the video and celebrities like Ryan Seacrest gave a link to it. Chance's older brother Tanner then wrote to Ellen DeGeneres, suggesting her to watch it.

The story of his fame in the making ran fast here when DeGeneres responded and he was invited to perform at her show. In May 2010, the teen sat down with the talk show host to talk about his music inspirations when suddenly a call went through. It was GaGa on the other end of the line. Chance then gave his heart out for his first television performance and again when he was invited to appear for the second time to perform his original song "Broken Hearts".

Chance won DeGeneres' Wonderful Web of Wonderment contest and a recording deal with her newly-formed label eleveneleven. In addition, Guy Oseary and Troy Carter, who managed Madonna and GaGa's career respectively, took over any phone calls directed to the singing talent.

His recording career began when his debut single "Waiting Outside the Lines" was released on iTunes in October 2010. He made promotional appearances and performances both in U.S. and U.K. in the remaining of the year as well as in the beginning of 2011. He joined Miranda Cosgrove in her national tour while continuing the work of his first album. A new single called "Unfriend You" was released ...