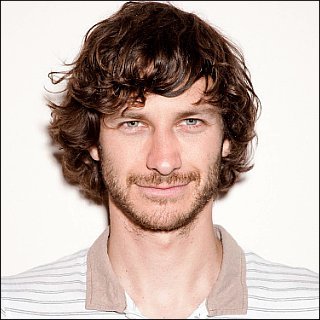 Profile
---
Famous as :
Singer, musician
Birth Name :
Wouter De Backer
Birth Date :
May 21, 1980
Birth Place :
Bruges, Belgium
Claim to fame :
Album "
Like Drawing Blood
" (2006)

Biography
---
by AceShowbiz.com
---
Wouter "Wally" De Backer, also known as Goyte, was born May 21 1980 in Bruges, Belgium but he and his family moved to Melbourne, Australia while he was young. Later, his parents changed his name to Walter as the English variation. Goyte's father is an engineer but his son leans towards music since early of his childhood.

It was during his teen years that he developed his music style by learning to play drums and absorbing the theory in high school. "But songwriting and production was just something I've played with in my own time," he said. Goyte formed the band Downstares with three of his friends, one of them is Lucas Taranto who still backs him up during live shows. As a band, Downstares managed to score shows in Northern Easter suburbs of Melbourne.

Downstares disbanded after high school and Goyte went on as a solo. In 2001, he recorded his first track which used a lot of samples. "I called it an 'album' (which was the style at the time), put a picture named Boardface on the front, and it went quite well. Some people even bought it on Compact Disc," he wrote on his official site. A four-track CD became his ammo to score a recording contract, some of them hit the target.

Melbourne street press and Australian youth radio Triple J took notice of his music. With boosted confidence, Goyte produced a couple of more four-track CDs which began getting rotation at the radio station. Around the same time, Goyte met singer-songwriter Kris Schroeder at a party and they hit it off instantly. They formed a songwriting duo called The Basics.

A distribution deal for an album came in 2003 for a collection of tracks from his three early releases. An album named "Boardface" hit the market later that year. Goyte continued recording with The Basics and the result was a second album called "Like Drawing Blood" which quickly went to Triple J in May 2006. It was voted the best album in 2006 in a poll by the radio station's listeners. With broader appeal, "Like Drawing Blood" was selling high in Australia and eventually earned Platinum for sales of over 70,000 copies.

Goyte was consequently nominated as best indie release at ARIA Awards which in Australia is equal to Grammy. "Like Drawing Blood" was also amongst nine shortlisted finalists in the 2006 Australian Music Prize. ...