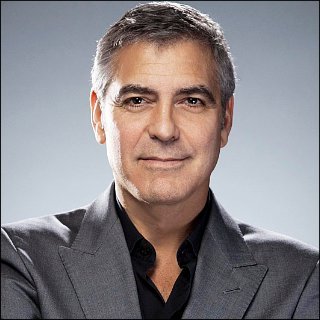 Profile
---
Famous as :
Actor

Birth Name :
George Timothy Clooney

Birth Date :
May 06, 1961

Birth Place :
Lexington, Kentucky, USA

Claim to fame :
As Dr. Doug Ross in TV drama "ER" (1994 - 1999)


Donated the helmet and football uniform he wore for the movie "Leatherheads" (2008) to the Rosemary Clooney House Museum in Augusta, Kentucky which was dedicated to his late aunt, songstress and actress Rosemary Clooney.
Loves beer, did voice-overs for Budweiser TV commercials and allegedly had a beer keg installed in his dressing room during the filming of "Ocean's Eleven" (2001).
Had his image being immortalized by the Jelly Belly Gourmet Beans Company in 10,000 sweets; Cotton Candy beans for his cheeks and uttered Popcorn candy for his highlighted hair (February 2008).
His pig pet named Max died on Dec 1, 2006 of natural causes.
Was on January 18, 2008 being appointed as United Nations Messenger of Peace, thanks to his efforts to raise awareness of the Darfur crisis.
Included in GQ Magazine's list of 50 Most Stylish Men in the Past 50 Years (September 2007).
Included in Time Magazine's annual list of 100 Most Influential in May 2007.
Chosen as one of People (USA) Magazine "50 Most Beautiful People in the World" (1996).
Included in People Magazine's annual list of "100 Most Beautiful People" two times in a row; in 2006 and 2007.
Voted "Best Dressed Male Television Star" (1997).
Included in Entertainment Weekly's list of 50 Smartest People in Hollywood (November 2007).
Voted Sexiest Man Alive by People Magazine in 1997 then again in 2006.
Included in Forbes.com list of America's Most Eligible Bachelors, named the Most Eligible Singleton in Los Angeles (August 2007).
Appears on the cover of the first Men's Vogue (2005).
Alongside Brad Pitt and Matt Damon, his "Ocean's" co-stars, had their hand and foot prints left in cement outside Grauman's Chinese Theatre on June 5, 2007.
Is the 8th Hollywood's Hunk according to the 'Guy Candy' list compiled by TV show Access Hollywood in March 2007.
Ranked 9th in the nationwide Harris Poll of America's Favorite Movie Stars in 2007.
Included in the Vanity Fair's 67th annual International Best-Dressed List.
Listed as one of the Top 5 of the Best Autographers in Hollywood by Autograph Collector's 14th annual survey held in May 2006.
Has donated his bag of Oscar goodies, including a BlackBerry 8700c, a Kay Unger kimono and a Tahitian-pearl necklace, to be auctioned for the United Way Hurricane Response and Relief Recovery Fund (March, 2006).
Ranked #5 in the annual survey by Quigley Publishing Co. on Top Moneymaking Stars (Jan, 2006).
Was the 8th America's Favorite Movie Star in a poll released by Garris Interactive by January 2006.
Voted Sexiest Male Celebrity in a 'Naughty Forties' poll conducted for UK television station FX when he was 43.
Ranked #27 on Premiere's 2002 Power 100 List.
Is a Dallas Mavericks fan.
Bought a large Villa on Lake Como in Italy from John Kerry and Teresa Heinz Kerry.
Heads his own film & television production company, Maysville Pictures.
Was a pallbearer at his late aunt, Rosemary Clooney, funeral.
Claims he has suffered from bleeding stomach ulcers and is still on medication for stomach pain.
Good friends with actor Mark Wahlberg.
Was reported to get into a fistfight with "Three Kings" (1999) director David O. Russell on the set.
Boycotting "Entertainment Tonight" (1981), the sister show of "Hard Copy" (1989), which had filmed him without his permission.
Becoming best man at Richard Kind's wedding.
Guest-starred on the TV show "Friends" (1994) with his "Ocean's Eleven" (2001)/"Ocean's Twelve" (2004) co-stars, Julia Roberts, Brad Pitt and Elliott Gould, though not in the same episodes.
Has his voice dubbed for the singing moments in "O Brother, Where Art Thou?" (2000).
Auditioned five times for the role of J.D. in Ridley Scott's "Thelma & Louise" (1991), which later went to Brad Pitt.
Is the 6th actor to play Batman.
Stars in films that focus on some type of robbery, including "Out of Sight" (1998), "From Dusk Till Dawn" (1996), "Three Kings" (1999), "O Brother, Where Art Thou?" (2000), "Ocean's Eleven" (2001) and "Welcome to Collinwood" (2002).
Signed on to star in "O Brother, Where Art Thou?" (2000) before even reading a script.
Was the very first guest of talk-show host Rosie O'Donnell's TV show when it first debuted.
Shared an L.A. home with Kelly Preston when they were struggling actors.
Early in his career, he lived in a friend's closet while struggling as an actor in L.A..
Once rode a bicycle to get to auditions as a struggling actor.
Usually plays scoundrels that are likable and have redeeming qualities.
During the early 1980s he shared an apartment with actor Thom Mathews.
Failed to join the Cincinnati Reds baseball team.
Quit his job as broadcast journalist after a short time because he didn't want to compete with his father.
Is a nephew of actress and singer Rosemary and Betty Clooney, and a cousin of actors Miguel and Rafael Ferrer.
Usually called Gorgeous George.
Is of Irish-American decent.
Was born at 2:48 AM, EST.