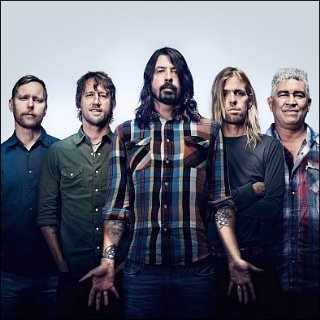 Profile
---
Famous as :
Alternative rock band
Birth Date :
1994
Birth Place :
Seattle, USA
Claim to fame :
Album "
Foo Fighters
" (1995)

Biography
---
by AceShowbiz.com
---
When a band, let alone rock band, has been performing together for a decade or more, it would be considerable if they went in hiatus, or even worse, broke apart. However, that was not the case for Foo Fighters. Though the band experienced considerably many stumbling stones along their way to stardom, this American alternative rock band has grown more solid than ever. Along their 10 years of togetherness, the band that is characterized by loud, heavy guitars with pretty melodies combined with pop songwriting have successfully created one hit song after another and nailed numerous notable awards, including awards from the respectable Grammy Awards.

Originally a one-man-band, Foo Fighters is the brainchild of Dave Grohl, the drummer of another great rock band, Nirvana, whose loyalty to his former band made him suppressed his writing talent. Later, Grohl often noted in interviews that he was well aware of the infamous drummer joke: "What did the drummer say just before he got fired? Hey, guys, let's try one of my songs!", which explained that he feared that his song writing could break the band's great chemistry. Hence, perhaps, if not for the death of Nirvana lead singer, Kurt Cobain, that led to the dismantling of the band, Foo Fighters might never be heard of or known by many rock enthusiasts. A few months after the shocking death of Cobain, Grohl finally dared to openly book a professional studio, recorded his compiled materials by himself, and sent it to many record companies. His recording demo which caused fierce bidding battle between record companies eventually ended up in the hands of Capitol Records executives and became Foo Fighters' self-titled debut album. After the completion of "Foo Fighters" (1995), Grohl formed the band, whose name was inspired by the term used in the World War II to describe mysterious aerial phenomena. First, he recruited Sunny Day Real Estate's bassist, Nate Mendel, who brought the Sunny Day Real Estate's drummer, William Goldsmith to join the group. Finally, to complete the pack, he enlisted Nirvana's guitarist, Pat Smear. The foursome then embarked on their first tour as a group in the spring of 1995. Meanwhile, the band's first single "This is a Call", which was released in June 1995, got to #2 on Modern Rock Tracks, reached rock fanatics' ears and quickly lured fans for the then young band. As their next singles "I'll Stick ...