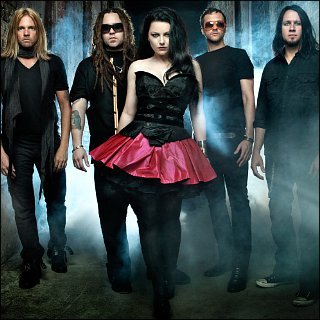 Profile
---
Famous as :
Nu-metal band
Birth Date :
1995
Birth Place :
Little Rock, Arkansas, USA
Claim to fame :
Single "
Bring Me to Life
" from album "Fallen" (2003)

Biography
---
by AceShowbiz.com
---
band without given any time to defend the situation.

He said, "I'm done and I'm pretty upset about it. Amy called and fired me today. There's absolutely no loyalty in this band." He continued by writing on his blog that Amy gave him no chance for negotiations or even early warning. "Our common goal was always the same. To make Evanescence the best rock band it could ever be," he said.

"I have always given blood, sweat and tears to make that happen but apparently that is not enough. I have now become just another of the people fallen by the wayside on the revolving door of her life. It's funny how many of us there are now. I guess it's good for lyrical content, though. Maybe I will be among the blessed to have a song written about me, too. Maybe the song will be 'Call Me When You're Broke'."

A couple of days later, Gray opened up that he was banned by the same management from publicizing any statement regarding his departure. Gray wrote, "Amy Lee's management emailed me last night to tell me that, in their view, the contract I signed to record, perform and tour with the group says I'm not allowed to have any free speech in regard to Evanescence. They way they spin it, I'm not even allowed to say I quit the group, I guess."

Amy's party was quick to offer their side of story. They clarified, "Evanescence is alive and well. John and Rocky were in Evanescence for four years and we shared some great times together playing live, but they were ready to move on and so we have parted ways. Evanescence is something I have loved and nurtured since I was fourteen, and I will continue to protect and fight for it as I always have."

Amy then quickly hunted for the new members which she found from alt-metal band Dark New Day. Citing that it was her favorite band, Amy pulled drummer Will Hunt and guitarist Troy McLawhorn to support Evanescence in 2007 summer tour for the band's third album and second chart topper "The Open Door".

Once the gig was completed, they went on a hiatus again. Five years later, they came back with a self-titled album "Evanescence". Talking about the absent from the spotlight, Amy confessed, "I had a little bit of an identity crisis. [The success ...