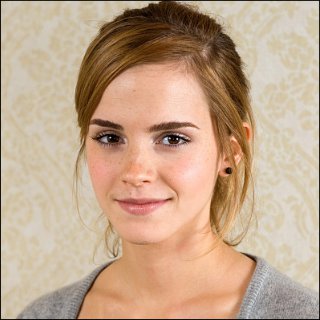 Profile
---
Famous as :
Actress

Birth Name :
Emma Charlotte Duerre Watson

Birth Date :
April 15, 1990

Birth Place :
Paris, France

Claim to fame :
As Hermione Granger in "Harry Potter" series


Left her hand, foot, and wand prints at Grauman's Chinese Theatre in Hollywood on July 8, 2007.
Graces the cover of Tatler magazine's July 2007 issue for her first professional modeling photo-shoot.
Hates vegetables and loves chocolate.
She also is a fictional character in Jane Austen's unfinished novel "The Watsons."
Her favorite actors/actresses include Julia Roberts, Brad Pitt and Renee Zellwegger.
Her favorite films are "The Shawshank Redemption" (1994), "Gladiator" (2000), "Braveheart" (1995), "Pride & Prejudice" (2005), "Grease" (1978), "Shrek" (2001) and "Ocean's Eleven" (2001).
Loves shopping and going to the cinema.
Her favorite singers are Alanis Morrisette and Justin Timberlake.
Her hobbies include socializing with her friends, listening to music, modern dance and ballet.
Can speak French, Italian and German.
Her two cats named Bubbles and Domino.
Her role models are Julia Roberts, Goldie Hawn, John Cleese and Sandra Bullock.
Her favorite sports are hockey, tennis and rounders.
- Joined Pierce Brosnan, Kenneth Branagh, and Samantha Morton to serve as a jury to select the 2004 teenaged film-makers' "First Light Film Awards" ceremony held in London's Leicester Square.
Falsely reported to have broken her wrist during the filming of "Harry Potter and the Chamber of Secrets" (2002).
Was nominated for Best Ensemble in a Feature Film in the 2002 Young Artists Awards and Empire Award for "Harry Potter and the Philosopher's Stone" (2001).
Nominated for Best Youth Performance in the 2002 Phoenix Film Critics Society for "Harry Potter and the Chamber of Secrets" (2002).
Won Best Ensemble in Feature Film and Best Performance in Feature Film - Young Artist Awards for "Harry Potter and the Philosopher's Stone" (2001).
Won the Young Artists Award in March 2002 for Leading Young Actress Feature Film for "Harry Potter and the Philosopher's Stone" (2001).
Was ranked #8 on the Lycos Top 50 and became the only "Harry Potter" star to have appeared on that list.
Ranked #10 in "The Hottest Female Stars" in February 2004.
Favorite Harry Potter book is "Harry Potter and the Prisoner of Azkaban."
Got the nickname 'One Take Watson' because she could do a scene in one take.
Prior to being cast in the Harry Potter films, she did several school plays.
Once dressed up as a witch for Halloween, but had no idea that she would play one in the Harry Potter movie.
Won the 1st prize of Daisy Pratt Poetry Competition (1997) when she was just 7.
Her parents have been divorced.
Once lived in France for 5 years.
Was named after her paternal grandmother, who after marriage became "Emma Charlotte Duerre Watson."
Is of British and Turkish descendant.