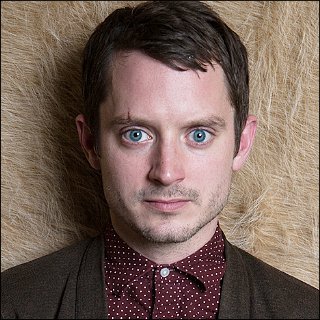 Profile
---
Famous as :
Actor

Birth Name :
Elijah Jordan Wood

Birth Date :
January 28, 1981

Birth Place :
Cedar Rapids, Iowa, USA

Claim to fame :
As Frodo Baggins in "The Lord of the Rings" trilogy


In December 2003, he lived in a New York apartment with sister Hannah.
Has a 3-inch tattoo on the lower right side of his torso. It's a strange series of crooked vertical lines that looks like a wrapped product bar, which he said as "Elvish," stands for the number nine
Has many hobbies, including photography, reading, fencing, in-line skating, swimming, basketball, hockey, cooking and singing.
He usually bites his fingernails, which is apparent in the many close-up shoots in the Lord of the Rings.
He usually smokes Clove Cigarettes.
Started smoking in 1998 while filming "The Faculty" with Josh Hartnett.
Often attends the E3, stands for Electronic Entertainment Exposition, which takes places in Los Angeles at the convention center.
He once suffered acute appendicitis and was briefly hospitalized [August 2003].
Acted as the Bacchus of the 2004 Mardi Gras Parade, and returned the next year.
Wears clear contact lenses.
Fried artichoke hearts dipped in ranch dressing is his favorite food.
His favorite movie is "Harvey" (1950).
His favorite books are "The Hobbit" and "The Hunchback of Notre Dame."
By 2005 he's been reported to open his own record company.
His favorite bands include the Smashing Pumpkins, The Stone Roses, The Beatles, The Sundays, Black Sabbath, Verbena, and ex-Smashing Pumpkin Billy Corgan's new band, Zwan.
Plays piano and studies singing professionally.
He loves music so much that's why owns thousands of CDs in many musical genres.
Has two dogs: Rascal and Levonne.
Represented fellow actor Macaulay Culkin at Academy Awards.
Was handed the NATO/ShoWest Young Star of the Year Award.
Lost the male lead in "Drive Me Crazy" (1999) to Adrian Grenier because he was considered too young to be next to Melissa Joan Hart.
Injured his eyebrow, which leaving a visible scar, during the filming of "The Yank" (2005).
He has one of two prop rings used in "Lord of the Rings," which the other one goes to Andy Serkis, who played Gollum.
Has become the first member of the official "Lord of the Rings" fanclub.
Perceives Frodo Baggins as his best role.
He actually is the youngest of the four actors played the four lead hobbits in the Lord of the Rings.
While filming "The Faculty" (1998), he heard about the Lord of the Rings trilogy and thus immediately wanted to join the cast.
Became a model mainly because his mother wanted him to burn off excessive energy.
Her mother nicknamed him "Spark Plug" and he sometimes is credited as Lij, The Funny, Elwood and Monkey.
He is the nephew of Turk E. Krause from the band Molly Nova and the Hawk.