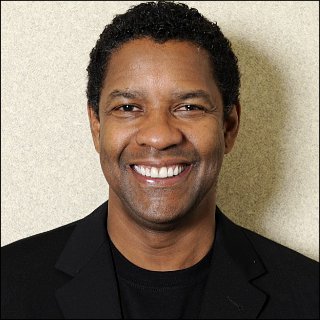 Profile
---
Famous as :
Actor

Birth Name :
Denzel Hayes Washington Jr.

Birth Date :
December 28, 1954

Birth Place :
Mount Vernon, New York, USA

Claim to fame :
As Dr. Philip Chandler in TV series "St. Elsewhere" (1982-1988)


Has been chosen the No. 1 America's Favorite Movie Star in the nationwide Harris Poll in 2007.
Included in Forbes magazine's Top 10 list of the Most Trusted Celebrities in America (September 2006).
Became the supporter of many charities including Nelson Mandela's Children's Fund and an AIDS hospice, Gathering Place.
Positioned #40 in Premiere's 2002 annual Power 100 List and ranked #28 in the next year.
Was already paid $20 million even though the movie "American Gangster" (2007) was delayed for years.
Was the first Afro-American actor to receive two Oscars.
Chosen as the 39th Greatest Movie Star of All Time by Premiere Magazine.
Named VH1's 100 Hottest Hotties at #59.
Changed major of study from Biology to Political Science and finally landed the choice to Journalism/Drama major in college.
Took star-athletes like Jim Brown and Gale Sayers as the role models of his youth.
Was predicted by an old lady to be 'a person who will entertain millions one day' when he was still very young in a barbershop.
Had been regarded by Tom Hanks as a great teacher for acting.
Went to the same church as actors Dwayne Winstead, Sy Richardson, Marvin Wright-Bey and Fitz Houston.
Serves as the spokesperson of Boys and Girls Clubs of America since he was a member of the Boys Club once himself.
Frequently worked with director Edward Zwick.
Had worked with director Spike Lee for three times.
Listed as one of the 50 Most Beautiful People in the world by People Magazine in 1990 and 2002.
Listed as one of E!'s "Top 20 Entertainers of 2001"
Was featured in Newsweek cover story and taken as an example in a scientific explanation of why he was an extremely handsome man.
Listed as the 1996 Sexiest Man Alive by People Magazine.
Received Harvard Foundation Award in 1996.
Confronted the director of "Crimson Tide" (1995), Quentin Tarantino because he used racial slurs in the script.
Was the second Afro American actor to win an Oscar for Best Actor in a Leading Role after Sidney Poitier.
Named one of the 100 Sexiest Stars in film history at #77 in 1995 by the Empire magazine.
His son John David Washington also pursued the career of acting and appeared along him in "Malcolm X" (1992).
His son, Malcolm was named after the character Malcolm Little whom he played in "Malcolm X" (1992).
Played Malcolm X in an off-Broadway production of "When the Chickens Came Home to Roost" in early 1980s before portraying the same character in the movie "Malcolm X" (1992).
Is the cousin of Ukee Washington who is a CBS anchorman.
Was entitled "Police Chief for a Day" when he was a member of The Boys and Girls Club of America as a kid.
His father was named after the doctor that delivered his father and then inherited the name to him.