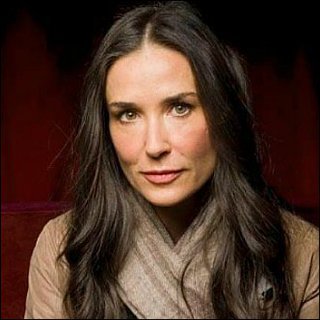 Profile
---
Famous as :
Actress

Birth Name :
Demetria Gene Guynes

Birth Date :
November 11, 1962

Birth Place :
Roswell, New Mexico, USA

Claim to fame :
As Molly Jensen in "Ghost" (1990)


Revealed during an interview on "The Late Show with David Letterman" in March 2008 that she underwent leech therapy in Austria to help her combats aging.
She has become the first actress to reach 10 million dollar mark salary.
In 2003, she made a stunning appearance of her own, Ashton Kutcher, Bruce Willis and their three daughters to the premiere of "Charlie's Angels 2: Full Throttle".
She and husband Ashton Kutcher chosen the No. 6 Best Dressed Couple in the World in the poll by Vanity Fair Magazine in July 2007.
In 1991, she posed nude for Vanity Fair Magazine cover while seven months pregnant. In 1992, she again posed nude covered with body paint for the same magazine.
Her first job was as a bill collector.
Legally changed her name into Mrs. Kutcher in September 2007, yet still kept her name from first songwriter husband Freddie Moore for all her professional endeavors.
Hired famous photographer Mario Testino to take a set of naked photos of her during her 41st birthday with one of the photos being used for the photographer's book "Let Me In."
Voted the No. 7 Best Dressed Female in a poll conducted by American publication Life & Style in December 2006.
Has been booked by Italian designer Donatella Versace to replace Madonna as the latest face for the fashion house's 2005-2006 campaign.
In 1996, she was chosen by People (USA) magazine as one of the 50 Most Beautiful People in the World.
Was replaced by Sandra Bullock for the lead role in "While You Were Sleeping" (1995).
She did one-arm pushups on the "Late Show with David Letterman" to prove to audiences that she was fit enough to star as a Navy SEAL in "G.I. Jane" (1997).
She once stripped wearing nothing but a bikini and the "Top Ten" list cards covering her on the "Late Show with David Letterman" before the release of her new movie "Striptease" (1996).
She hired 3 cameramen to videotape the birth of her first child, Rumer Glenn Willis (1988).
Demi was listed as one of twelve "Promising New Actors of 1986" in John Willis's Screen World, Vol. 38.
Demi was one of three finalists cast for the lead role in "Flashdance" (1983).
She continues to receive royalty checks for the songs she wrote before later becoming an actress.
She is a fan of Arsenal Football Club.
She started partying and sniffing cocaine for more than 3 years since her first role on "General Hospital."
She was spoofed in the video game "Leisure Suit Larry 7: Love For Sail" as hyper- sexual version of herself called "Dewmi (pronounced "Do Me") Moore".
She was voted #22 on VH1's Hottest Hotties.
Demi owns a production company "Moving Pictures".
"Striptease" was the film that placed Demi among the highest paid female actresses, with a salary of $12.5 million.
She appeared in John Parr's "St. Elmo's Fire (Man In Motion)" music video.
She had to sign a contract stipulating that she would stop her own alcohol and drug abuse in order to play a role in "St. Elmo's Fire" (1985).
She had repeatedly plastic surgery to remove fat on hips, tummy and behind and to enlarge her breasts on the other side.
Demi and her first husband, Freddy Moore, lived next door to actress Nastassja Kinski, who inspired Demi to become an actress.
She is also an avid doll collector.
She is the aunt of twin actors Cooper Guynes and Oliver Guynes.
Her trade mark is a husky voice.
Operations on her left eye during childhood caused her to wear a patch.
Demi's real father, Charles Harmon, abandoned the family after a two-month marriage.
She quit school at the age of 16 and work as a pin-up-girl.
Demi spent much of her childhood in Eastern Pennsylvania.