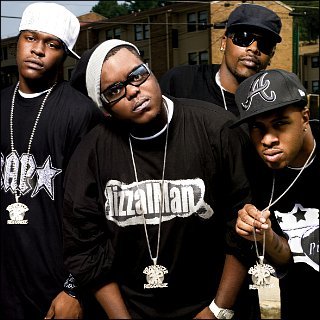 Profile
---
Famous as :
Rap group

Birth Place :
Atlanta, Georgia, USA

Claim to fame :
Single "White Tee's" from album "Dem Franchize Boyz" (2004)

Biography
---
Creating tremendous achievement of selling more than one million mobile phone ring tunes of their four tracks from second album "On Top of Our Game" up to mid February 2006, Dem Franchize Boyz has really hit the rap/hip-hop music scene with such a loud bang. Not only dominate radio airplay through their fresh tunes, the group also is likely to carry out the same thing in TV broadcasting as MTV is ready to feature them on its "Generation Hip-Hop" by February 26 and "MTV2's Monster Mix: Hip Hop" on March 4. Looking upon their accomplishment, this solid quartet, who has aimed to release their next single of "Stop Callin' Me" later this year, surely has bright potentiality to be the leader of the next generation of southern hip-hop artists.

Coming from the west side of Atlanta, Georgia, Dem Franchize Boyz was formed together by Gerald "Buddie" Tiller, Bernard "Jizzal Man" Leverette, Maurice "Parlae" Gleaton, and Jamall "Pimpin" Willingham when all of them were classmates at high school. Created their own unique style of blending the South's trademark crunk sound with mellower funk backdrops, the group first made their way independently, producing low-key releases and mix-tapes to then gain a large number of local fans. Following this initial success, some lavish offers of record deals from various music labels began to flow heavily and the foursome finally gave their nod to Universal Records. "We bucked on every deal, but with Universal Records we felt we were in a good situation so we went for it," Parlae explained.

Back to Top

Back to Top