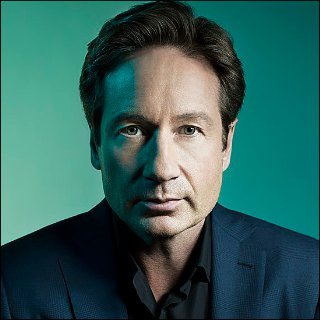 Profile
---
Famous as :
Actor

Birth Name :
David William Duchovny

Birth Date :
August 07, 1960

Birth Place :
New York City, New York, US

Claim to fame :
As Fox Mulder in TV series "The X Files" (1993-2002)


Brought home an American Comedy Award in 1999 for winning the category Funniest Male Guest Appearance in a TV Series through his performance in "The Larry Sanders Show."
Received Best Actor nomination from Academy of Science Fiction, Fantasy & Horror Films in 1999 for his role in "The X Files" (1998).
Did the voice over for TV ads of Sprint ION in 1999 and Pedigree in 2005.
Scored a TV Guide Award nomination for Favorite Actor in a Drama category in two consecutive years that were 1999 and 2000. He won at the former event
Filed a $25 million lawsuit against the producers and syndicators of "The X Files" in 1999 over being cheated of his contractual share of profits from series.
Has been the Saturn Award nominee for Best Genre TV Actor category for 3 consecutive years that were in 1997-1999 given by Academy of Science Fiction, Fantasy & Horror Films.
Got nominated in the category Best Performance by an Actor in a Television Series - Drama at Satellite Awards held in 1997 and 1998 for his role in TV series "The X Files." He won at the former event.
Has twice been nominated for Outstanding Guest Actor in a Comedy Series category at Emmy Awards, the first being in 1997 while the second in 2003.
Ranked 9th in People Magazine's list of 50 Most Beautiful People in the World by 1996.
Shared the Blimp Award nomination of Favorite Television Friends category with his "X Files" co-star Gillian Anderson at the 2000 Kids' Choice Awards.
Has been the one who provided the voice of Ethan Cole in Midway's 2005 video game of "Area 51."
Was named Most Popular Actor at National Television Award in 1996 and Best Foreign TV Personality - Male at Sweden Aftonbladet TV Prize in 1997.
Obtained a Universe Reader's Choice Award given by Sci-Fi Universe Magazine in 1995 for being Best Actor in a Genre TV Series.
Became the Q award nominee in the category of Best Actor in a Quality Drama Series at the 1995 Viewers for Quality Television Awards through his role in TV series "The X Files."
Has endorsed for some brands like Lowenbrau Beer (1987), Saks Fall (1995), Labatt Ice (1995), UK Ford Mondeo (1998), plus AT&T in the '90s.
Titled his senior thesis "The Schizophrenic Critique of Pure Reason in Beckett's Early Novels" (1982).
Had once been a member of the Charter Club, an undergraduate eating club at Princeton University where the upperclassmen take their meals.
Accidentally knocked his front teeth out at the age of 17 when fainted in an elevator at school.
Underwent jobs as a delivery boy for a meat market and a lifeguard on Fire Island during his teens.
Played scholarship-level basketball as a shooting guard in his younger years.
Experienced an eye-injury when playing basketball during his high school years and it consequently made his right pupil become enlarged.
His favorite childhood TV programs include "Gilligan's Island", "Bewitched", "Star Trek" "The Partridge Family", "The Abbott and Costello Show", "F-Troop", and "The Brady Bunch."
His favorite film stars are Meryl Streep, Humphrey Bogart, Marlon Brando, Al Pacino, and Robert Duvall.
Considers the last line of "The Last Tango in Paris" (1972) to be his pick for the best movie line.
Admitted that "Brian's Song" (1971) is the feature he had ever cried over of while "Don't Look Now" (1973) is the scariest flick he has ever seen.
His favorite zoo animal is elephant.
Has a tattoo a compass with the word "West" of his daughter's name near his left ankle.
Kept 4 cats and 3 dogs during his childhood.
Is somewhat allergic to metal which makes him unable to wear his wedding ring sometimes.
His mother, who was a teacher at New York City's Grace Church School, had a portion of the school's building named after her when she retired.
Likes playing baseball and basketball also swimming.
Has trademark of deadpan humor, puppy dog eyes, and cleft in chin.
Is a good friend of Ron Eldard.
His name was used as the title of a Bree Sharp's song.
His surname means spiritual in Russian and is actually written Ducovny since his father removed the 'h' letter to avoid pronunciation mistake, but he instead keeps using the name with 'h.'
Is a skeptic person about extraterrestrials and the UFO phenomenon, contrasting with his "X Files" character, Fox Mulder.
Was Jennifer Beals' classmate at Yale.
Is a sports fans and once showed up on MTV's "Rock n' Jock Softball Game."
His favorite books include Elmore Leonard's "Bandits", Norman Mailer's "The Executioner's", Thomas Pynchan's "V", Sam Shepard's "Seven Plays", and Gary Shandling's "Confessions of A Late Night Talk Show Host."
Is a vegetarian as his wife, Tea Leoni, is.