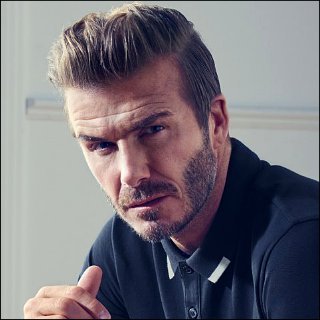 Profile
---
Famous as :
Footballer

Birth Name :
David Robert Joseph Beckham

Birth Date :
May 02, 1975

Birth Place :
Leytonstone, London, England

Claim to fame :
Helped England to qualify for the 2002 World Cup Finals in Korea and Japan


He and Victoria Adams won the 3rd spot on Forbes' list of Hollywood's 20 Top-Earning Couples, earning $58 million between June 1, 2007 and June 1, 2008.
Named one of People magazine's 2008 Sexiest Men Alive.
Included in Vanity Fair magazine's annual list of International Best-Dressed Men, released on July 29, 2008.
Chosen as the 2nd Sexiest Guy in Sports based on the poll conducted by In Touch magazine in September 2006.
Won the category for Best Dressed Man in a poll conducted by UK Glamour magazine in January 2007.
Named the 6th Britain's Best-Dressed Man by GQ magazine in April 2007.
He and wife Victoria chosen the No. 1 Best Dressed Couple in the World in the poll by Vanity Fair magazine in July 2007.
Made Forbes' annual Celebrity 100 list in June 2008, being ranked at No. 5.
Has on March 19, 2007 launched a new website, called "School Zone", which is aimed to provide a free coaching advice to teachers and pupils and improve their health, fitness and achievements.
Teamed up with fellow football stars; Thierry Henry, Ronaldinho, Cesc Fabregas, Lionel Messi, and Frank Lampard, for Pepsi's new TV ad debuted in March 2008 to promote pepsi.youniverse.com.
Appeared in the advertising campaign of Coty's new limited edition fragrance, Instinct After Dark, in March 2008.
Has had his two teen letters sold for 1,058 pound sterling at Bonhams auction house in Chester, northwest England, as part of a sporting memorabilia sale (March 2006).
Has a tattoo of wife Victoria Adams lying on her back surrounded by stars and baring her breasts with her knees raised up seductively on his left arm.
Signed to be the new face of the Emporio Armani underwear campaign in November 2007 and had the ad featuring him posed only in his white Armani underwear published in December 2007.
He and Kate Moss were asked to be the godparents of the baby son of actress Davinia Taylor and her sports agent husband Dave Gardner (June 2007).
Becomes the face of mosquito nets, putting his name to an anti malaria campaign supplying the potentially life-saving nets to Africa (May 2007).
Chosen as the 3rd "Most AB-ilicious Star" in Life & Style's list of celebrities with toned stomachs (May 2007).
Named the Sexiest Dad in the so-called "What is Sexy?" list compiled by Victoria's Secret in April 2007.
Is the 2nd Hollywood's Hunk according to the 'Guy Candy' list compiled by TV show Access Hollywood in March 2007.
Injured his right knee on March 4, 2007 during the second half of his team Real Madrid's 1-1 draw against Getafe.
Plays the prince from "Sleeping Beauty," astride a white horse and fighting a fire-breathing dragon, in the "Year of a Million Dreams" promotion for Walt Disney Co. theme parks (January 2007).
Ranked 4th in an Internet poll in December 2006 on Men Most Women Fantasize About While Making Love to Their Partners.
Signed to front the 13-year-old "Got Milk?" ad campaign by May 2006.
Preffered to use number 23 when joined Real Madrid in 2003 as a tribute to Michael Jordan who used the same number for Chicago Bulls.
Became the Most Valuable Player of Western Union and also Britain's Sportsman Of The Year for the Sports Press Association in 2001.
Bought a multi-million dollar residence in The Palm, Jumeirah, Dubai, United Arab Emirates.
Carried the status as the captain of England national team for the first time in a friendly match against Italy by 2000.
Celebrated his 30th birthday in 2005 at Buddha Bar in Madrid with about 100 guests.
Has been appointed to be a goodwill ambassador for UNICEF in January 2005.
His portrait was defaced and marked with the words of "You loosers" after England was defeated in Euro 2004.
His wax figure and Victoria's were depicted as holy couple of Joseph and Virgin Mary at Madame Tussaud's museum in London by 2004.
Was placed in the 91st rank in Channel Four's poll of the 100 Worst Britons in May 2003.
Acquired the 5th rank in the popular queries of the 2003 Year-End Google Zeitgeist and also the 2nd rank in the image search of popular men of the same list.
Was bestowed the Order Of British Empire honor for services to soccer on June 13, 2003.
Was placed in the 4th rank of European Footballer Of The Year while was voted Player Of The Year by the readers of Football365 Magazine in 2001.
Received a Nation Football Award for Player Of The Year category also was selected as Player of the Season 2000/01 in ManUtd.com by 2001.
Topped Celebrity Bodies Magazine's list of Best Male Body and Heat Magazine's list of Best Dressed Male in 2001.
Was the runner up of World Footballer Of The Year for two consecutive years that were in 2000 and 2001.
Was the runner up of the European Ballon d'Or awards and of BBC Sports Personality of the Year, both in 1999.
His first son's name, Brooklyn, appeared on his soccer boots during his participation in United's games throughout 1999.
His effigy was hanged outside a London pub while a dartboard with a picture of him was printed on an edition of Daily Mirror Newspaper after he got the red card in the 1998 World Cup.
Scored his first goal for England when the team faced Colombia at the 1998 World Cup at the Stade Felix-Bollaert in Lens.
Wrote an autobiography entitled "David Beckham: My Story" which was published in 1998.
Was loaned to Preston North End in 1994 and played 5 matches for the club.
Has a company named Footwork Productions Ltd.
Formed two soccer academies bearing his name in Los Angeles and London.
Was actually a strong cross-country runner in his younger years as he regularly finished first in his age group in the Essex cross-country championships.
Has developed a unique playing technique known as 'Beckhams' which was lifting and sending ball the far post, but bending it back to the near post confusing the keeper and having the ball just dip under the bar for the goal.
Named his first son Brooklyn because it was the place when he found out that Victoria was pregnant.
Has been the only British athlete to be included in People Magazine's 50 Most Beautiful People list.
Has a scar on his left cheek.
His third son's name, Cruz, means the cross-bearer or cross in Spanish.
Has been the model for a football computer game published by Rage Software.
Has tattoo of his two children's names, Brooklyn and Romeo.
His name was used to be the title of a movie, "Bend It Like Beckham" (2003), which turned out to be a box-office hit.
Appeared in the commercials for Brylcreem, Adidas, Vodafone, Diesel, Marks & Spencer, Pepsi, Police Sunglasses, Gillette, Castrol, TBC, Tsubasa Systems, Meiji, and Upper Deck.