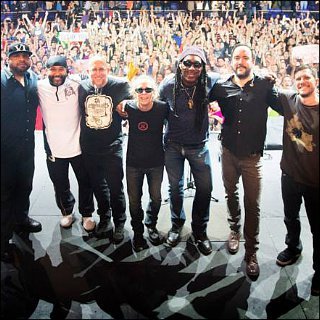 Profile
---
Famous as :
Rock band
Birth Date :
1991
Birth Place :
Charlottesville, Virginia, USA
Claim to fame :
Album "
Under the Table and Dreaming
" (1994)

Ranked No. 9 in the Rolling Stone's 5th-annual list of Biggest Moneymakers.
Launched www.dmbnewstudioalbum.com which provided their fans with updated information about the progress of "Stand Up" (2005) by early 2005.
One of "Busted Stuff" (2002) singles, entitled "Where Are You Going," was included in the soundtrack of "Mr. Deeds" (2002).
Their songs called by numbers, such as "#34" and "#41," actually came as a result of Matthews' confusion in giving titles to the songs he created, so he simply put the numbers based on the order that he wrote them.
All songs from "Remember Two Things" (1993), except "Minarets" and "Seek Up," were taken from live recordings at nightclubs namely Flood Zone, Muse, and Trax.
The title of their RCA third album, "Before These Crowded Streets" (1998), was derived from one of its tracks' lyrics of "The Dreaming Tree."
Added one more day to their 2005 concert at Red Rocks Amphitheatre in Colorado to raise fund for the victims of Hurricane Katrina.
Their music video of "Dreamgirl" from album "Stand Up" (2005) featured Julia Roberts.
Participated in a concert to benefit bay area charities in San Francisco's Golden Gate Park and in Vote for Change Tour to benefit American Coming Together (ACT), both in 2004.
Their producer on "Everyday" (2001), Glen Ballard, helped Matthews in composing all songs while Matthews himself for the first time used an electric guitar in this album.
"Listener Supported" (1999) was recorded live at Continental Airlines Arena in New Jersey and was also filmed by Public Broadcasting Service (PBS) for its "In the Spotlight" special.
Collaborated with singer Alanis Morissette and banjoist Bela Fleck in "Before These Crowded Streets" (1998).
The song "#36" was dedicated to the memory of South African anti-apartheid leader, Chris Hani, who was killed in his efforts to free South Africa.
Their song entitled "Typical Situation" was based on Robert Dederick's poem "Prayer in the Pentagon."
Their RCA debut album, "Under the Table and Dreaming" (1994), was dedicated to Matthews' older sister, Anne, who had been killed by her own husband in South Africa.
Beyond their music career, the members of the band have the commitment to be actively involved in charity through their own Bama Works Foundation.
Is managed by Coran Capshaw, CEO of Musictoday LLC.
Is a taping-friendly band, meaning that they allow their audience to do the taping at almost every live performance of them.