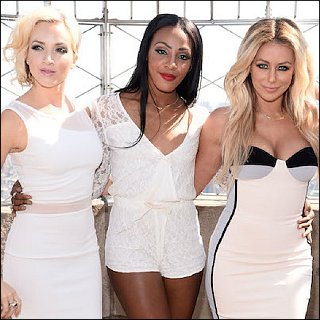 Profile
---
Famous as :
R&B girl group
Birth Date :
Late 2005
Birth Place :
New York City, New York, USA
Claim to fame :
Debut album "
Danity Kane
" (2006)

Biography
---
by AceShowbiz.com
---
Emerged to music industry with such a loud bang following the huge success of their self-titled debut album's sale, Danity Kane really does not have much to worry about in developing their reputation in the business as high publications on them keep coming under way for sure. Previously became the opening act for Black Eyed Peas at the Tweeter Center in Boston on August 24, 2006, the group gloriously has been invited to perform alongside Cassie, P. Diddy, and Yung Joc at the NFL Kickoff held on September 7 while at the same time had their "Show Stopper" music video aired exclusively on MTV Asia. Meanwhile, there are also some meet-and-greet sessions to undergo at Nordstrom stores around U.S, beginning from September 9 in Oakbrook, Illinois then expanding to cities like Costa Mesa, Austin, and Bellevue before being concluded in McLean, Virginia by October 28.

An amalgamation of fine talents from different backgrounds, Danity Kane is an all-girl quintet consisting of Shannon Rae Bex (born on March 22, 1980), D. Woods (born Wanita Denise Woodgette in Springfield, Massachusetts), Dawn Angelique Richard (born on August 5, 1983 in New Orleans, Louisiana), Aubrey Morgan O'Day (born on February 11, 1984 in San Francisco, California), and Aundrea Aurora Garcia Fimbers (born June 29, 1983 in Upland, California). The formation of the group began to take shape when P. Diddy decided to establish a new female super-group through MTV's reality show "Making the Band" after previously assembling hip-hop troupe Da Band in the second installment of the series in 2002. Hundreds of hopefuls then lined-up to compete for a chance to become the band's personnel but it were those aforementioned beauties who later emerged as the five best in the end.

All undergoing extensive trainings in singing also dancing since early age, the girls persistently polished their knack throughout the two subsequent seasons of the third installment before finally getting introduced as Danity Kane in June 2006 on MTV's TRL. The name itself was derived from a female superhero created by Richard that inspired P. Diddy to address the group so upon seeing her drawing of the character in the studio. Under this moniker, the troupe thus optimistically released their debut single "Show Stopper" featuring Yung Joc on August 4, 2006 through Diddy's label, Bad Boy Records. Much to their delight, the tune quickly received rave response from the music listeners, rocketing to the ...