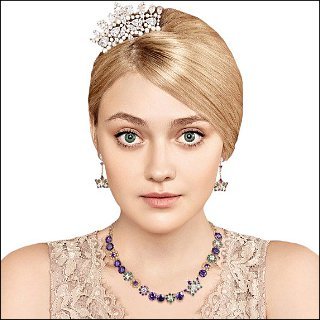 Profile
---
Famous as :
Child actress

Birth Name :
Hannah Dakota Fanning

Birth Date :
February 23, 1994

Birth Place :
Conyers, Georgia, USA

Claim to fame :
As Lucy Diamond Dawson in "I Am Sam" (2001)


Ranked 4th on Forbes magazine's Hollywood's Top Earning Stars Under 21 list in 2007, with $4 million earning during the year 2006.
She revealed in a subsequent Tonight Show interview on July 12, 2005, that she received a cell phone from Tom Cruise for her birthday, much to her parents' chagrin.
Donated a signed head-shot to Rocky Stone to be auctioned off to raise money to buy more toys for less fortunate kids as part of the Toy Mountain Campaign 2005.
Her role model is Meryl Streep and Hilary Swank.
Thought of her pet goldfish, flounder, dying for the sad scenes in "I am Sam" (2001).
She visited England for the very first time on June 19, 2005 with Tom Cruise to attend the premiere of "War of the Worlds" (2005) at London's Leicester Square.
Always brings a book of baby names with her wherever she goes.
Loves to knit and has knitted scarfs for Tom Cruise, Robert De Niro and Denzel Washington.
Some of her favorite films are "Gone with the Wind" (1939), "Titanic" (1997) and "Steel Magnolias" (1989).
Her first on screen kiss was in "Sweet Home Alabama" with Thomas Curtis.
In 2001 she won a Golden Satellite Award, "Outstanding New Talent," for her work in "I Am Sam."
Won a Sierra Award for her work in "I Am Sam."
Won a BFCA Award, Best Young Actor/ Actress, for her work in "I Am Sam."
In 2002 she was nominated for a Young Artist Award, "Best Actress in a Feature Film," for "I am Sam."
Was nominated for a SAG Award and Chicago Film Critics Award for "I Am Sam" in 2002.
In 2002 she won a Critic's Choice Award for her work in "I Am Sam" (2001).
In 2003 she was nominated for a Saturn Award for "Steven Spielberg Presents Taken" (2002) (miniseries) in Best Supporting Actress.
Won an MTV Movie Award for Best Frightened Performance for her work in "Hide and Seek" (2005).
At the age of 8, she became the youngest person to be nominated for a Screen Actors Guild Award, for her supporting performance in "I Am Sam" (2001).
Voiced Lilo in "Lilo and Stitch 2: Stitch has a Glitch" (2005).
Chosen for a Tide commercial at age five.
Learned to read at age 2.
Got her name Dakota from her father, while she got Hannah from her mother.
Is one of 14 grandchildren.
Is of Scandinavian descent.