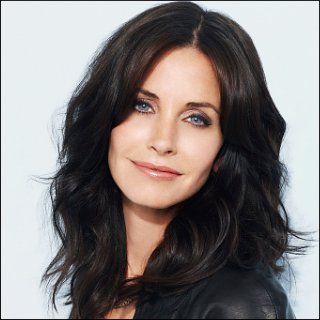 Profile
---
Famous as :
Actress

Birth Name :
Courteney Bass Cox

Birth Date :
June 15, 1964

Birth Place :
Birmingham, Alabama, USA

Claim to fame :
As Monica Geller on TV series "Friends" (1994 - 2004)


Signed by Avon to be the new face of its women's fragrance, called Spotlight (December 2008).
Was included in People magazine's list of 50 Most Beautiful People and labeled the Hottest Babe by Playboy Magazine in 1995.
Enlisted the help of her celebrity friends in a bid to raise $1 million fund for Epidermolysis Bullosa, a rare skin condition that primarily affects children (March 2008).
Donated an amount of money to support the investigation of Natalie Holloway, who attended the same high school as she had gone to, in 2005.
Established a production company named Coquette in 2004 with husband David Arquette.
Earned the 18th rank in Stuff magazine's 102 Sexiest Women in the World list by 2002 and 41st on Forbes' list of Celebrity 100 in 2003.
Had her eye vision corrected through laser eye surgery in 1999.
Was chosen by FHM readers as 9th Sexiest Woman in the World in 1997 and 1998.
Was selected as Best Dressed Female Television Star in 1997.
Went onstage on a theatrical production of "King of Hearts" at Los Angeles' Tiffany Theatre in 1989.
Picked her "Friends" co-star Jennifer Aniston to be the godmother of her daughter.
Named her first child Coco as a result of compromise between her and David Arquette because he did not approve her idea to name the child after hers due to Jewish tradition.
Was proposed by David Arquette in front of her entire family members in Panama City, Florida.
Prompted Adam Duritz to write Counting Crows' song entitled "Monkey" just for her.
Designed her own brand of lipstick by Cargo which later was called CeCe, based on her nickname.
Initially tried for the role of Rachel Green when auditioned for "Friends" but was given that of Monica Geller instead.
Became the first person on TV to say 'period' in its physiological sense through a Tampax commercial.
Once worked at a concert-booking agency in New York named F.B.I. (Frontier Booking International) together with her then-boyfriend, Ian Copeland.
Is the only primary cast of "Friends" to not earn an Emmy nod for her work on the series.
Has been a member of Delta Zeta Sorority alongside Sharon Stone and Neve Campbell.
Was featured in the music video of Counting Crows' "A Long December."
Owns a silver-colored Porsche Carrera and a Jaguar.
Can play drums and piano well, even has practiced the former instrument since her eleventh grade.
Was born on the same date and month as Helen Hunt, Ice Cube, Leah Remini, Neil Patrick Harris, and Jake Busey were.
Is a huge fan of Foo Fighters.
Keeps three dogs called Ella, Rags and Mr. McBarker or Mac apart from her two Cavalier King Charles Spaniels, Hopper and Harley.
Practices yoga while used to swim and play tennis in her younger years.