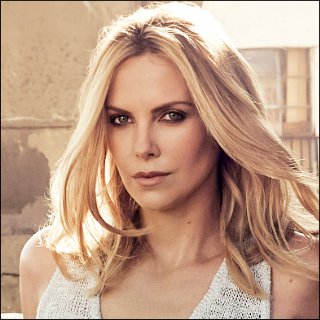 Profile
---
Famous as :
Actress
Birth Date :
August 07, 1975
Birth Place :
Benoni, Gauteng, South Africa
Claim to fame :
As Aileen Wuornos in "
Monster
" (2003)

Included in People magazine's annual list of Best Dressed Women of 2008.
Was out of town when burglars broke into her pad in California's Hollywood Hills in early December 2007.
In Touch Magazine credited her legs as the Best Legs in Hollywood, thanks to her ballerina background which does help shaping her long legs (January 2007).
Has at the 17th annual GLAAD (Gay and Lesbian Alliance Against Defamation) Media Awards, held April 8, 2006 in Hollywood, been honored for increasing "visibility and understanding".
Named by Esquire Magazine as its Sexiest Woman Alive in October 2007.
Graced the cover of Vogue Magazine's October 2007 issue.
Signed as the new celebrity spokesmodel for Italian luxury watch and jewelery brand Breil Milano (September 2007).
Ranked 9th on Maxim.com's list of Sexiest Movie Assassins for her portrayal in the 2005 "Aeon Flux" (April 2007).
Ranked 7th on the Hollywood Reporter's 5th annual list of Highest-Paid Actresses, earning as much as $10 million per movie (November 2006).
Chosen as the World's 5th Most Beautiful Woman in the June 2006 poll conducted by the UK magazine Eve.
Was included in People Magazine's list of 50 Most Beautiful People in 2000.
Was approached by John Crosby at a bank after he witnessed her throwing a tantrum to a bank teller for rejecting her check.
Has two cocker spaniels named Denver and Delilah, also a goat called Bok.
Was the first artist that signed on to be a presenter at the 77th Annual Academy Awards held in 2005.
Appeared as the cover of Entertainment Weekly on its issue of October 28, 2005.
Injured her neck in the set of "Aeon Flux" (2005) in 2004 after slipped in doing a backflip somersault so that she had to undergo physiotheraphy for three hours a day.
Was the first African citizen to be nominated at the Academy Awards along with Djimon Hounsou.
Became the second actress after Kim Basinger to be granted an Oscar after posing nude in the Playboy Magazine. She appeared in its May 1999 issue.
Had to freckle her clear complexion, apply a set of crooked teeth, and eat a lot of potato chips to add more 30 pounds in her weight to play Aileen Wuornos in "Monster" (2003).
Was mentioned as the 12th Sexiest Female Movie Star by Australian Empire Magazine in September 2002.
Was placed on the 4th rank of 100 Sexiest Women list compiled by FHM Taiwan in 2001.
Refused to play the female lead in "Pearl Harbor" (2001) to star in "Sweet November" (2001).
Lost to Elizabeth Berkley in the audition for "Showgirls" (1995).
Met Stephen Jenkins for the first time at one of Third Eye Blind's shows at Hawaii's Hard Rock Cafe in 1997.
Learned English through American TV shows.
Developed a crush on Tom Hanks after watching "Splash" (1984).
Her favorite school subject is English.
Underwent hypnotherapy to quit her smoking habit.
Once dyed her hair pink to look like her favorite singer, Cyndi Lauper, during her childhood.
Has a tattoo of a tiny flower on her right foot.
Her dream job before pursuing a career in acting was to be a broadcast journalist.
Has a nickname of Charlie.
Is named after her father, Charles Theron.
Found it hard to stop laughing when doing a lesbian kissing scene in "Monster" (2003) since her fake teeth kept falling out.