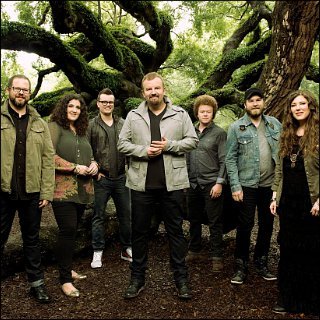 Profile
---
Famous as :
Christian band

Birth Date :
1999

Birth Place :
Daytona Beach, Florida, USA

Claim to fame :
Track "If We Are the Body" from album "Casting Crowns" (2004)


Biography
---
by AceShowbiz.com
---
Christian rock group Casting Crowns were formed in 1999 by youth pastor Mark Hall at First Baptist Church in Downtown Daytona Beach, Florida. "I've been a youth pastor for about 12 years, and every church I've been in, music's always been a part of it", Hall said. He fronted the group as a singer and songwriter, recruiting guitarists Juan DeVevo and Hector Cervantes and violinist Melodee DeVevo. They later moved to Stockbridge, Georgia in 2001 only to gain more members.

Chris Huffman joined the lots on bass, Megan Garrett on keyboards and accordion, and Andy Williams. On drums. Together, they released two indie albums which were well-received locally in Atlanta. They thought of going more nationwide but decided to continue what they had been doing. And then came college student in Daytona named Chase Tremont who handed their CD to his basketball coach, who happened to be friends with Mark Miller of Sawyer Brown.

Miller was struck by Casting Crowns' driving pop/rock style and Hall's vocal. Miller signed Casting Crowns to Beach Street Records, making the band the first artist signed to the label. The first result was an eponymous album released in 2003. It was the fastest selling album in the Christian music history. The band won the GMA regional songwriters competition at Palm Beach Atlantic University, West Palm Beach, Florida in both the "Best Song" and the "Best Artist" categories in 2004. The album was certified platinum in 2005.

Second album "Lifesong" was released in 2005, debuting at #9 on the Billboard 200 Albums chart. It spent nine weeks in the top spot, with its single "Praise You in This Storm" remaining at number 1 for seven weeks. They received their first Grammy the next year. Third album "The Altar and the Door" debuted to higher chart position, sitting at #2 on the Billboard 200. It was certified gold by the RIAA within 10 weeks upon release.

Their drummer left in early 2009 to pursue further calling. He was replaced by Brian Scoggin who joined the lots in the band's fourth major studio album, "Until the Whole World Hears". Released in 2009, the album sold over 167,000 copies in the first week and entered at number 4 on Hot 200. They won the Dove Award for Artist of the Year in 2010. Their fifth album came on October 18, 2011 under the title "Come to the Well". It ...