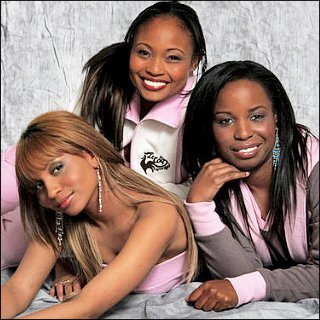 Profile
---
Famous as :
R&B Soul Trio

Birth Name :
Caramel City

Claim to fame :
Single "I Can't"


Biography
---
Caramel City is comprised of three sultry souls: Lisa, Kamaria and Martina. They may not be one of the most recognizable names in Canada but their sound is sure to set a mark for 2006. With funky warm vibrant tones, this hip-hop orientated R&B group, otherwise known as Caramel City, has produced what critics like to call 'Sticky Flava's You Jus Wanna Savoir'.

Hailing from the heart of Ontario these three Toronto natives undeniably agree that Canadian talent is indeed a force to reckon with. Having watched the success of mentors like Deborah Cox, Tamia and Glen Lewis; the quest to achieve the often sought for 'major label holy grail' has been all the more attainable.

Given the opportunity to grace numerous stages like the Lounge, Z103.5, Phem Phat, Wild 101.5, Rivoli, Flow 93.5 and Mic Check "The Mic is On" series, these girls are willing to do whatever it takes to represent Canadian talent. Understanding that having creative control is always a bonus, the decision to write, arrange and co-produce all of the song's on their upcoming album was inevitable. "We decided to show our audience not only that Canada has talent," say's Martina, "but also the fact that there are young talented women out there willing to take on the challenge of setting the course of music for future generations".

That having been said the release of their debut single "I Can't" produced by Justin Gray of Pop Stars fame has even the most skeptic nay sayers tuning in. The single has already garnished high rotation on Toronto's hottest Urban Station FLOW 93.5. Hitting #2 on the Top All Request Charts. "We wanted to release something that would keep the crowd hype" says Lisa. "Our style will always speak for itself". Having been influenced by great legends such as Anita Baker, En Vouge, Tina Marie, Whitney Houston and Mary J. Blige to name a few.

Current influences such as Destiny's Child, Mariah Carey, Britney Spears, Missy Elliot and Timberland. These influences have also found their way into Caramel City's established sound. For 2006 Caramel City are to release their debut album. What barriers may lie ahead for these young ladies, one can never say; it will always be a gamble, but Caramel City is setting the trend and raising the bar for Canadian female R&B groups. The word is out that the Caramel City is on the scene. ...