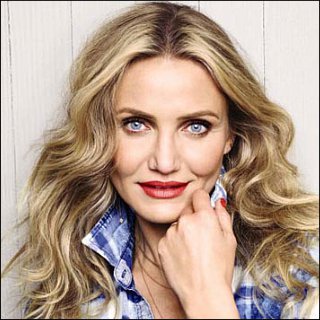 Profile
---
Famous as :
Actress

Birth Name :
Cameron Michelle Diaz

Birth Date :
August 30, 1972

Birth Place :
San Diego, California, USA

Claim to fame :
As Tina Carlyle in "The Mask" (1994)


Chosen 1st on Forbes' list of Hollywood's Best Paid Actors for the females category, raking in an estimated $50 million between June 1, 2007 through June 1, 2008.
Included in People magazine's list of The Best Dressed Stars of 2007, credited to have the Best Legs.
Earned the 8th position in In Touch magazine countdown of top 10 "Best Bottoms In Hollywood" in August 2007.
Ranked 3rd in In Touch Weekly magazine's Hollywood "Beach Bums" list in 2007.
Had her figure immortalized in wax at Madame Tussauds in London (February 19, 2008).
Had her legs chosen as the 4th Hollywood's Sexiest Legs according to a poll conducted by Life & Style Magazine in March 2007.
Was voted the 3rd Most Unlucky in Love Female in Hollywood by In Touch Weekly Magazine in April 2007.
Chosen the 2nd Hottest Rock 'N' Roll Girlfriend in a Blender Magazine poll in March 2005.
Tops Maxim Magazine's 7th annual Hot 100 list of the Most Successful Women of the Year in Film, Television, Music, Sports and Fashion at No. 7 (May 2006).
Voted the 4th celebrity to have the "Best Legs" in a poll conducted in November 2006 by Lambrini which searched for the sexiest legs for a new fashion campaign with Pretty Polly.
Included in The Hollywood Reporter's annual list of the Highest-Paid Actresses in Hollywood; ranked 5th in 2006 with $15 million per movie and 3rd in 2007 still with $15 million a movie.
Ranked 3rd in a list for the Best Dressed Ladies of 2007 compiled by InStyle Magazine.
Included in Forbes.com list of America's Most Eligible Bachelors, named the Most Eligible Singleton in Los Angeles (August 2007).
Credited to have the Sexiest Legs in the so-called "What Is Sexy?" list compiled by Victoria's Secret in April 2007.
Issued an apology on June 24, 2007 to Peru residents for wearing a bag, emblazoned with a red star featuring Mao Zedong's political slogan "Serve the People" printed in Chinese, which to her unknown evoked painful memories to the people.
Collected a $3 million paycheck for appearing in a commercial for a Japanese cell phone company (February 2007).
Chosen as Hollywood's Worst Autograph Signer by Autograph Collector's 14th annual survey held in May 2006.
Has been awarded statutory damages over the illicit sale of topless photos of her taken by photographer John Rutter years before she became an A-list actress (April, 2006).
Has herself portrayed in Sofia Coppola's "Lost in Translation" (2003) by Anna Faris.
Good friends with Drew Barrymore and Lucy Liu since acting with them in "Charlie's Angels" (2000).
Has her name mentioned in Bryan Wilson's lyric of "South America" (1998).
Broke her nose in a surfing accident in Hawaii on her birthday, August 30, 2003.
Once said she will only wash her face in Evian spring water.
Lived with video producer Carlos De La Torre for five years.
Auditioned for the film "Waking the Dead" (2000/I) but lost the role to Jennifer Connelly.
Lost the role she auditioned for the film "Things to Do in Denver When You're Dead" (1995) to Gabrielle Anwar.
Has a reputation for being late.
Started working as a model at 16.
Believes in superstition.
Cameron and Julia Roberts are the only actresses to join the coveted $20 Million Club.
She was replaced by Bridgette Wilson in 1995's "Mortal Kombat" over a broken wrist.