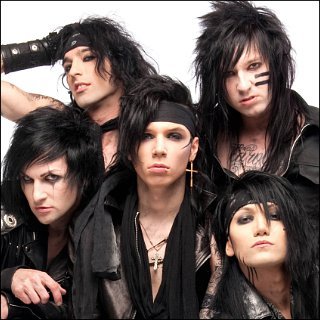 Profile
---
Famous as :
Dark-rock band
Birth Place :
Los Angeles, California, USA
Claim to fame :
Debut Album "
We Stitch These Wounds
" (2010)

Biography
---
by AceShowbiz.com
---
Black Veil Brides was created by 16-year-old vocalist, Andy Six, in 2007 when he began seeking players to create a vision of a modern day heavy metal band. He wanted to combine the theatrics and passion of Misfits, Motley Crue and KISS, with lyrics and music that pertain to the downtrodden outcasts of society.

After various member changes, the band settled with a lineup that consisted of Andy in vocals, Jake Pitts in lead guitar, Ashley Purdy in bass, Jinxx in guitar, and Sandra Alva in drums. They started to build a strong fan base on the road, creating a buzz as they traveled the country to introduce their sound in "On Leather Wings" tour.

"We carry a message of believing in yourself and letting no one tell you otherwise. We stand up for the underdog and the disenfranchised. Anything strange, odd, or unique... we embrace that. So basically standing up for yourself; have fun and live your life how you choose. You only have one life, make the most of it," said Ashley.

As the number of their fans grew bigger, the band released their debut studio creation, "We Stitch These Wounds". They cemented their status as one of the rising star to watch as the album climbed to No. 36 on Billboard Hot 200 and reached No. 1 on Billboard Independent chart. A number of major gigs soon followed including a slot at the Bamboozle.

They were soon well known for their black makeup and body paint in addition to their distinctive sound. They were also famous for their dangerous stunt done particularly by Andy as lead singer. He once fell from a 15 foot pillar in Hollywood. In an attempt to jump back onto the stage, he fell forward and hit his chest on the edge, resulting in 3 ribs shattered and one displaced.

"I never anticipated seeing 40. I smoke two packs a day and drink like a camel. I just don't really think about death. I know I'm gonna die one day, but if I can achieve all of my goals and live exactly the way I want to before then, I'll have no regrets when I die. I don't try to hurt myself Iggy Pop or Marilyn Manson or anything - it's just the byproduct of the chaos of being on stage," he explained.

It was not until 2011 during which Andy changed back ...