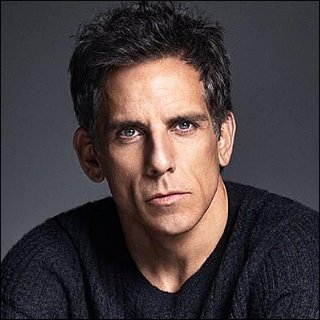 Profile
---
Famous as :
Actor

Birth Name :
Benjamin Edward Stiller

Birth Date :
November 30, 1965

Birth Place :
New York City, New York, USA

Claim to fame :
As Ted Stroehmann in "There's Something About Mary" (1998)


Starred in Travis' 2007 music video titled "Closer" as a store manager.
Placed on the 3rd position on US magazine Newsweek's annual list of Most Powerful Actors on the Planet in April 2007.
Awarded with the Hasty Pudding Man of the Year award on February 23, 2007.
Gained 4 nominations at the 2005 Teen Choice Awards in the categories of Choice Movie Liar, Choice Movie Blush Scene, Choice Movie Actor: Comedy, and Choice Comedian through his role in "Meet the Fockers" (2004).
Brought home an MTV Award in 2005 for winning Best Villain category through his role in "Dodgeball: A True Underdog Story" (2004).
Became an honorary member of Princeton University's Class of 2005 during its "Senior Week" in April 2005.
Was in the list of actors who were considered to play the role of Willy Wonka in "Charlie and the Chocolate Factory" (2005).
Garnered 4 Teen Choice Award nominations in 2004 for the categories of Choice Movie Hissy Fit, Choice Movie Chemistry, Choice Movie Blush, and Choice Movie Actor - Comedy.
Was nominated for Worst Actor category for his role in five out of the six films he starred in 2004 at the year's Razzie Awards.
Starred with Vince Vaughn in 3 movies by year 2004 alone.
Was nominated in the categories of Best Dressed and Best Line at MTV Movie Awards held in 2002, then of Best Dance Sequence in 2004, and Best Comedic Performance in 2005.
Played the father of his own real-life father in an episode of "The King of Queens" entitled "Shrink Wrap" aired in 2002.
Quitted joining a Broadway run of "Glengarry Glen Ross" in 2002 to spend more time with his daughter who was also born in the same year.
Got nominated in both Film - Choice Actor, Comedy and Film - Choice Hissy Fit categories at the 2002 Teen Choice Awards for his role in "Zoolander" (2001). He won the latter one.
Scored two nominations in the categories of Best Performance by an Actor in a Supporting Role, Comedy or Musical and in a Motion Picture, Comedy or Musical at the 2002 Satellite Awards.
Has thrice been nominated for Best On-Screen Team at MTV Movie Awards, the first being in 2001, the second in 2002 and the third in 2004.
Was placed on the 80th rank in Premiere's annual Power 100 List in 2001, the 68th in 2002, and the 78th in 2003.
Showed up in popular quiz show "Who Wants to Be a Millionaire" on May 9, 2001 and successfully collected $32,000 for charity.
Landed the Teen Choice Award nomination for the category of Film - Choice Hissy Fit in 2000 and Choice Film - Choice Actor in 2001.
Shared a Silver Spire honor with Bob Greenblatt and David Janollari for winning the Television-Comedy category through "Heat Vision and Jack" (1999) at San Francisco International Film Festival held in 2000.
Landed the nominations of Best Comedic Performance, Best Kiss, and Best On-Screen Duo at the 1999 MTV Movie Awards for his role in "There's Something About Mary" (1998).
Got nominated for the category of Funniest Actor in a Motion Picture (Leading Role) at American Comedy Awards in 1999 and 2001. He won at the latter event through his role in "Meet the Parents" (2000).
Has been a good friend of Tom Cruise since 1996.
Actually took part in "Get Shorty" (1995), but his scene was sadly cut from the film.
Along with Janeane Garofalo, wrote a book entitled "Feel This Book: An Essential Guide To Self-Empowerment, Spiritual Supremacy And Sexual Satisfaction."
Is a huge fan of "Star Trek" TV series and even named his production company "Red Hour Films" which was the name of an alien riot featured in the episode "The Return of the Archons."
Helped producer Jenifer Estess in raising fund of millions of dollars to fight against ALS or Lou Gehrig's disease.
Appeared in the music videos of Limp Bizkit's "Rollin'", Tenacious D's "Tribute", Diddy's "Bad Boy for Life" and Jack Johnson's "Taylor."
Is a noted supporter of the Democratic Party and once donated money to the U.S. Presidential campaign of John Kerry in 2004.
Performed a fictionalized version of himself in TV shows of "The Larry Sanders Show", "Curb Your Enthusiasm", and "Extras."
Often carries out impromptu impersonations of his favorite performers, including Bono of U2, Tom Cruise, and Bruce Springsteen
Is one of the Frat Pack members alongside Will Ferrell, Owen Wilson, Jack Black, Vince Vaughn, Steve Carell, and Luke Wilson.
Has a clique of Hollywood friends consisting of Owen Wilson, Jack Black, Kyle Gass, and Janeane Garofalo who frequently appeared in his movies.
Considers Diane Keaton as his favorite actress of all time, even had written an article about her for Premiere Magazine by 1997.
Suffers from bipolar disorder or previously known as manic depression, a psychiatric disorder marked by alternating episodes of mania and depression.
Once worked as a waiter, an intern on the Alan Thicke show "Thicke of the Night", and a stage manager before his career took off.