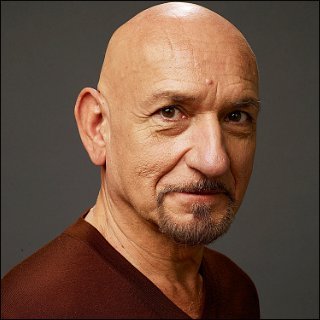 Profile
---
Famous as :
Actor

Birth Name :
Krishna Pandit Bhanji

Birth Date :
December 31, 1943

Birth Place :
Scarborough, Yorkshire, UK

Claim to fame :
As Mohandas Karamchand Gandhi "Bapu" in "Gandhi" (1982)


Biography
---
by AceShowbiz.com
---
Krishna Bhanji was born on December 31, 1943 in Scarborough, Yorkshire to a Kenya-born doctor of Indian descent named Rahimtulla Harji Bhanji and an English-born fashion model and actress of Jewish-European extraction, Anna Lyna Mary Bhanji. Krishna, as he soon known as an English actor of Indian-Gujarati and Russian-Jewish descent, derived his stage name Ben Kingsley, from his Zanzibar spice trader grandfather's nickname, Clove King.

Previously educated at Manchester Grammar School, Kingsley began his London stage debut in 1966 as the narrator of "A Smashing Day" produced by Beatles manager, Brian Epstein. Writing the music as well as singing and playing guitar for the same production, Kingsley was suggested by John Lennon and Ringo Starr to go into music and that if he didn't, "he would regret it for the rest of his life." Kingsley was once subsequently offered a deal by the same publishers who handled the Beatles, but his love to acting drove him to remain an actor.

Avoided being typecast, the actor began taking various roles in such films, as "Turtle Diary" (1986), "Maurice" (1987), "Pascali's Island" (1987), "Without a Clue" (1987), and the 1991 "Bugsy" which earned him an Oscar nomination for the category of Best Supporting Actor. Kept adding more film projects into his resume while at the same time sharpen his acting skills, the man was again being nominated for another Academy Award for Best Supporting Actor for his role of Don Logan in "Sexy Beast" (2001). Then took the main role in the novel-based movie "House of Sand and Fog" in 2003, he collected another Oscar nomination for Best Actor.

By the middle of the first decade of the 21st century, Kingsley had already compiled various big screen performances in his credits, appearing in "Thunderbirds" (2004), "Suspect Zero" (2004), "A Sound of Thunder" (2005), "Oliver Twist" (2005), and "BloodRayne" (2005). 2006, in the meantime, saw him act alongside the likes of Josh Hartnett, Bruce Willis, Morgan Freeman, and Lucy Liu in "Lucky Number Slevin" before moviegoers spotted him in the starry cast of John Dahl's comedy "You Kill Me" on June 22, 2007. This was shortly followed by epic adventure "The Last Legion" which also featured Colin Firth and Aishwarya Rai.

Though the latter two movies only fared moderately on the box office, Kingsley smoothly kept striving forward, taking part in three other flicks also slated or 2007 releases namely "Transsiberian", "The Ten Commandments", ...