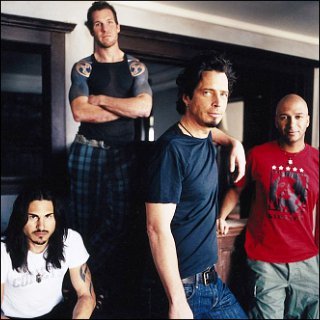 Profile
---
Famous as :
Alternative rock supergroup
Birth Date :
2001
Birth Place :
Los Angeles, California, USA
Claim to fame :
Debut album "
Audioslave
" (2002)

Biography
---
by AceShowbiz.com
---
Ready to create one more sensation in music scene with the coming out of their third work, 'Revelations', Audioslave appear to have no difficulty in running their path throughout year 2006. Despite the cancellation of their European tour which included a high billing at the Reading and Leeds festivals in the U.K., wide exposure kept flowing smoothly for the band, notably that of being the Xbox 360's August Artist of the Month also the featured guest on Rockline with host Bob Coburn on August 28. What's more, the nationally syndicated radio show has eagerly aimed to broadcast a program named 'Best of Audioslave' highlighting 'Revelations' on Labor Day, September 4, surely giving the quartet another potential chance to shine brighter in the music industry.

A rock super-group which has capability to produce strong, rich sounds using only vocals, guitar, bass guitar, or drums, Audioslave resulted from the merging between two substantial bands of Soundgarden and Rage Against the Machine (RATM). The origin of the group dated back to October 2000 when RATM vocalist, Zack de la Rocha, decided to quit from the troupe that consequently led to the disbanding of the L.A.-based quartet. As the three remaining members namely guitarist Tom Morello (born Thomas Baptist Morello on May 30, 1964 in Harlem, New York), bassist Tim Commerford (born on February 26, 1968 in Irvine, California), and drummer Brad Wilk (born September 5, 1968 in Portland, Oregon) opted to stay together in continuing their path, producer Rick Rubin then suggested them to jam with former Soundgarden vocalist, Chris Cornell (born on July 20 1964 in Seattle, Washington), to see if the guy could fill the empty seat left by de la Rocha.

Feeling the good chemistry between them after the meeting, the threesome and Cornell really did not take much time to finally join forces to work together in composing also recording songs, but the road gravely turned out to be not all smooth for them to undergo. Just before the 2002 Ozzfest in which they had been plotted to make a gig, Cornell abruptly concluded to leave the band due to the disputes between his management company and the other members'. Things got worse when 14 rough demo tracks they have recorded were leaked onto various peer-to-peer file-sharing networks under the name of "Civilian" or "The Civilian Project." Fortunately, everything began turning to better direction following Cornell's return and the ...