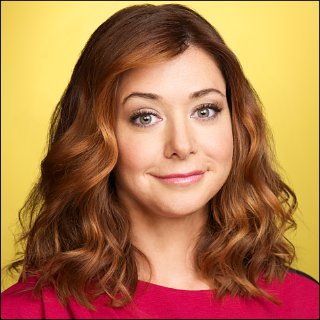 Profile
---
Famous as :
Actress
Birth Name :
Allison Lee Hannigan
Birth Date :
March 24, 1974
Birth Place :
Washington, DC, USA
Claim to fame :
As Willow Rosenberg in the TV series "
Buffy the Vampire Slayer
" (1997)

Was in a TV series about a witch titled "Free Spirit" (1989) and later on played as a witch in "Buffy the Vampire Slayer" (1997).
Her favorite scenes in "American Pie" would be those with actor Eugene Levy who played Jim's father.
InStyle Magazine's February 2004 edition was given the honor to give an account on her wedding.
Jason Biggs is her co-star in four movies, "American Pie" (1999), "American Pie2" (2001), "American Wedding" (2003), and "Boys and Girls" (2000).
Plays as Seth Green's on-screen girlfriend in two different movies, "Buffy the Vampire Slayer" (1997) and "My Step Mother is an Alien" (1988).
As a teenager, Alyson's hobbies were playing clarinet and playing soccer, but the later one was stopped due to injuries.
Together with actresses Tangi Miller and Holly Marie Combs, she actively became the spokesperson for breast cancer where she appeared in brochures that will raise women's awareness of the disease.
The Malcolm Effect wrote a song about her titled "This One Time" under her so-called famous line "This one time, at band camp" in "American Pie".
Once rejected a role in the TV show "In the Game" because of creativity disagreements.
Rejected the proposed role as Heather in the movie "American Pie" (1999) because she thought Michelle is the wittier one.
Her brunette hair is 100 per cent natural.
Her salary was as high as $250,000 per episode by the final season of "Buffy the Vampire Slayer".
A sex tape portraying her made its way to the public. Fortunately, the "look-alike" didn't have any of Alyson's tattoos.
Has two tattoos, tribal dolphins on her ankle and a Japanese kanji for luck and happiness on her back.
'Allycat' is her official nickname.
Her name was an inspiration to Juvenile Wreck's song "Alyson Hannigan".
Sometimes she regrets being the only child.