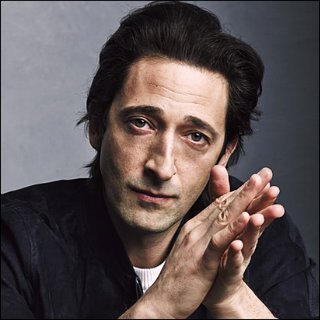 Profile
---
Famous as :
Actor

Birth Date :
April 14, 1973

Birth Place :
New York, New York, USA

Claim to fame :
As Wladyslaw Szpilman in "The Pianist" (2002)


Was actually engaged in talks for the role of Spock in "Star Trek" (2008), but the part ultimately went to "Heroes" star Zachary Quinto.
Also left his apartment, sold his car, and didn't watch television to sharpen the feeling of loss experienced by Szpilman.
Was the only leading actor who received his first Oscar at the 2003 Academy Awards since the other four nominees previously have acquired the honor.
Applied a protein diet, underwent sessions in an isolation tank, and performed prison exercises in order to make a convincing portrayal in "The Jacket" (2005).
Was labeled Best Dressed Man in America by Esquire Magazine in 2004.
Was banned from Saturday Night Live show after displaying an unscripted introduction for Sean Paul in May 2003.
Carried out a diet of two boiled eggs and green tea for breakfast, a little chicken for lunch, and a small piece of fish or chicken with steamed vegetables for dinner over six weeks for the role of Wladyslaw Szpilman in "The Pianist" (2002).
Had been in the line for a role in "Pearl Harbor" (2001).
Broke his nose in the set of "Summer of Sam" (1999), but he only had it fixed instead sought to bring back its normal shape. The nose then becomes his most identifying feature.
Had a cameo appearance as a camera man in "Natural Born Killers" (1994).
Had a serious injury in 1992 due to a motorcycle accident.
Had performed as 'The Amazing Adrien' at children's birthdays from the age of 12.
Was placed in number 21 on VH1's list of 100 Hottest Hotties.
Wore clothes designed by Zegna when attending the Academy Awards.
Appeared in Diet Coke's advertising campaign.
Was featured in Tori Amos' music video of "A Sorta Fairy Tale."
Is the best friend of Asia Argento and Benicio Del Toro.
Has the same birthday with Sarah Michelle Gellar and Julie Christie.
Had a Hummer which is known for being Arnold Schwarzenegger's favorite vehicle.
His pets include a chihuahua called Ceelo.
Likes hip-hop music, and Beatnuts is one of his favorite bands of this genre.