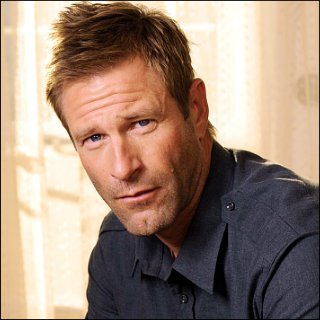 Profile
---
Famous as :
Actor

Birth Name :
Aaron Edward Eckhart

Birth Date :
March 12, 1968

Birth Place :
Cupertino, California, USA

Claim to fame :
As Chad in movie "In the Company of Men" (1997)


Biography
---
by AceShowbiz.com
---
point Eckhart ought to feel that his star was rising but sadly in the same year he had to break his engagement to actress Emily Cline whom he proposed to few years before due to a reason which they kept for themselves. Recovering from the unpleasant situation, he made huge come back in Oliver Stone's "Any Given Sunday" (1999) as Nick Crozier and Steven Soderbergh's Oscar winning biopic "Erin Brockovich" (2000) as George. Surely his supporting role as the biker who won Erin's heart in the latter film was unforgettable and so did his role as a used car salesman in the Golden Globe winning flick "Nurse Betty" (2000). Striking while the iron was hot, the next year he walked in a thriller directed by Sean Penn titled "The Pledge" as a young detective investigating the murder of a young child before working for the fifth times with LaBute in "Possession" (2002) as Gwyneth Paltrow's investigation partner. Ready to be challenged once again, Eckhart involved himself in three thrillers "The Core", "The Missing" and "Paycheck" which were favorite films in 2003, but to sweeten things up, he showed a comedic side of him by guest-starring as Frank in the popular TV series "Frasier" (1993) for two episodes in 2004.

Apparently, he couldn't stand apart from his favorite movie genre which was thriller and so acted in "Suspect Zero" (2004) as the hunting FBI agent opposite Ben Kingsley. He performed well but sadly the movie was not exactly a boom. The next role that he played along Helena Bonham Carter in "Conversation with Other Women" (2005) was just simply interesting. Owning no name, just being a 'man' and 'woman' the two characters represented how two poles could end up sexually attracted after simply meeting as strangers. In 2005, taking in as many as two other movies, "Thank You for Smoking" as Cameron Bright's father and "Neverwas" as a psychiatrist who discovered a unique individual within a schizophrenic, he radiated his willpower in portraying various kinds of characters with their own uniqueness that he was tapped by Brian de Palma to appear in "The Black Dahlia" (2006), an adaptation of James Ellroy's novel. Opened up to any kind of characters he then involved himself in a sweet and 'delicious' comedy titled "Mostly Martha" (2007) about a chef who dedicated her life to invent food masterpieces but was distracted when she had to ...